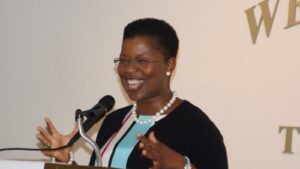 Speaker, Writer, Editor, & Consultant
A desire to help others is a common theme in my life, and this desire has motivated many of my personal, educational, and professional pursuits.  I try to live my life in a way that is in harmony with the well-known phrase "to whom much is given, much is required."
As a military spouse, I have an intimate understanding of serving others and I aspire to do so in and with my life.  I use my professional and personal skills to serve as a national speaker, mentor, diversity and inclusion professional, editor, legal services consultant, and creator of faith-based content.
Currently, I wear a number of professional hats.  I am a national speaker on topics related to diversity and inclusion, including the impact of implicit bias in the legal profession.  I also provide editing, ghostwriting, and publishing assistance to aspiring authors.  I gain a sense of accomplishment by helping others achieve their dreams, even as I pursue my own dreams.  In addition, my faith is a major component of my life.  I develop and teach bible study lessons and I have spoken to faith communities on a variety of topics, from relationships to prayer.
I also actively mentor a number of students (from elementary school to law school) as well as young professionals.  I was named the 2015 Adult Mentor of the Year by the San Antonio Mentoring Forum and a Campus Partner-of-the-Year Honoree in 2014, 2015, and 2016 for my work as a mentor at Jefferson Middle School in Texas.
I enjoy speaking and writing, especially to benefit community groups.  My article "Manage Time as a Parent" was published in the April 2014 issue of Helotes Life magazine, a local community magazine in Texas.  Additionally, I have spoken to a number of community groups on a variety of topics, including estate planning, critical thinking, mental health, mediation, stress management, and relaxation techniques.
Outside of my professional activities, I enjoy spending quality time with my blended family, reading, and playing word games.
Additional information about my professional background follows:
I am a native of Indiana, and I attended Purdue University, where I earned a Bachelor of Science degree (engineering management) in 1994, and a Master of Science degree (higher education administration) in 1996.  After graduating from Purdue, I moved to San Antonio and worked as an Assistant Director of Residence Life at St. Mary's University from 1997 to 1999.  During my time at St. Mary's, I realized that my passion to help people required additional training—so I decided to attend law school.
I graduated cum laude in 2002 from the Indiana University Maurer School of Law, where I earned various merit scholarships and fellowships.  I was actively involved in the Black Law Students Association, and I served as a research assistant to a constitutional law professor and visited Kenya as part of the Summer in Africa program.  I was also elected as the Senior Managing Editor of the Indiana Law Journal, and my student note "Protecting Student Privacy: Reporting Campus Crimes as an Alternative to Disclosing Student Disciplinary Records" was published in this journal (77 Indiana Law Journal 143 (Winter 2002)).  During law school, I was a summer associate at two major law firms—Ice Miller (Indianapolis, Indiana) and Jones Day (Washington, DC).
I have clerked for two federal judges during my career—Judge C. Arlen Beam on the United States Court of Appeals for the 8th Circuit in Lincoln, Nebraska and Judge Rosemary M. Collyer on the United States District Court for the District of Columbia.  I have also worked as a commercial litigator for three law firms—Akin Gump Strauss Hauer & Feld, LLP (San Antonio, Texas), McDermott Will & Emery LLP (Washington, DC), and Cokinos, Bosien & Young (San Antonio, Texas).  I have been licensed to practice law in Texas (inactive), Indiana (resigned), and the District of Columbia (resigned).
After spending most of my legal career as a commercial litigator, I decided to take a leap of faith to focus my practice on family law matters.  While managing the Law Office of T.K. Floyd, PLLC, I also earned a Master of Arts degree in counseling in 2013 from the University of Texas at San Antonio.  I pursued this degree based on my belief that counseling is a natural complement to family law because most family law issues stem from conflicts in personal relationships.  I maintained a 4.0 grade point average in graduate school, and I was initiated into the Chi Sigma Iota Counseling Honor Society.  I became a Licensed Professional Counselor Intern (inactive) as well as a trained mediator.
In 2016, I returned to St. Mary's, where I served as a faculty member in the Law Success Program at St. Mary's University School of Law.  In this position, I taught multiple courses, including Introduction to Legal Methods, Advanced Legal Methods, and Bar Preparation.  Additionally, I developed academic success and bar preparation curricula and programming for law students.  I still mentor many of my former students as they continue their education or begin their professional lives.
During most of my professional career, I have also served as a Director for the National Diversity Council (NDC).  I was a facilitator for the Certified Diversity Professional certification program.  My article "Law Firm Diversity: What Can You Do About It?" was featured in the October 2015 issue of Texas Diversity Magazine.