Spiritual insight can come from the most unexpected places!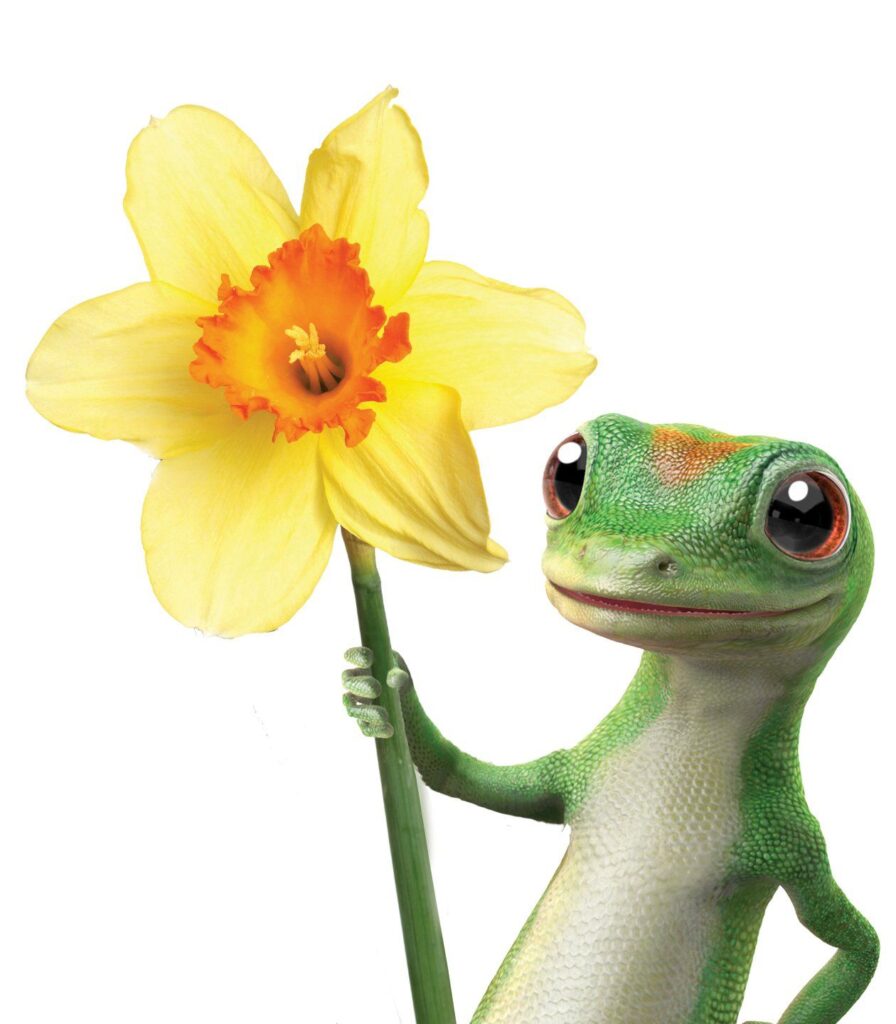 Earlier this week, as I sat in my office, I saw movement in my peripheral vision.  When I turned in the direction of the movement, I noticed a gecko scurrying under my file cabinet.  Although the gecko in the Geico commercials seems harmless, this creature was not welcome in my home!  I immediately gathered my things and retreated to our master bedroom, where I remained until my husband got home from work (because I was not returning downstairs without an escort to stand guard while I cooked dinner for the family).
As I sat in the recliner in our room, I pondered how yet another gecko had gotten into our house — because this was the second or third invasion by an unwelcome lizard-like guest.  I replayed the entire morning in my mind…  I recalled opening the front door a few times to throw away trash from our boys' bedrooms and the kitchen (because the trashcan was already at the curb for pickup).  I also went out the front door to check the mail twice (because I didn't realize the mail I retrieved the first time was from the weekend until I heard the mail truck).  I also went into the garage to bring in the trashcan once it had been emptied.
We have seen a number of geckos both on our front porch and in our garage.   And we have had one, maybe two other invasions — there's debate in our home whether the first gecko I saw months ago was the same one I saw crawling by our front door several weeks later.  I won't name names, but I was told by members of my family that the first invader had been removed, only to be told later that the initial invader was not in fact removed and that the new invader may actually be the original invader.  Anyway, after the first couple invasions, I instructed my family to be careful about closing the doors to the garage and the front porch, even if they were only going out for a minute.  
Unfortunately, they have gotten a bit lazy in closing the doors, so I'm not 100% sure (1) when the gecko entered my home or (2) how long it has been inside.  I'm assuming I'm the culprit because my office is right by the front door, where I exited several times that morning – and my office is where I saw the invader.
I have been living on edge the past few days — constantly looking over my shoulder or requesting an escort because I don't know when or where I might see the invader.  I want to believe that the creature has left the house (my husband said he couldn't find it), but I know from past experience that it can actually still be somewhere in this house.  I avoid the downstairs as much as possible.  I have altered my routine.  I don't want to deal with this unwelcome guest…
As I was pondering the presence of a gecko in my home, the Holy Spirit gave me a spiritual connection.  That gecko is analogous to sin.  We don't always know exactly how we started that bad habit or opened the door to that lie we told, but we know it's there.  Like that gecko, sin can slip into our lives undetected if we aren't careful to close the proverbial door — if we don't guard our hearts.  Proverbs 4:23 provides an instruction:  "Guard your heart above all else, for it determines the course of your life." (NLT). Just as I must close the door when I leave my house if I want to avoid any additional reptilian intruders, I must be careful to close the door to my heart to avoid allowing the wrong thoughts, emotions, or motives to enter through music, television, social media, movies, friends, etc. 
In my imagination, the gecko was waiting by the door for it to open, creating an opportunity for that creature to enter my home.  Similarly, God warned Cain about sin: "Sin is crouching at the door, eager to control you.  But you must subdue it and be its master."  Genesis 4:7b (NLT).
I can master sin by recognizing its existence in my life and living by the power of the Holy Spirit.  For example, I know that my thoughts are the starting point for many sins in my life, so I am learning to master my sin by applying Romans 12:2 and 2 Corinthians 10:4-5:
"Don't copy the behavior and customs of this world, but let God transform you into a new person by changing the way you think. Then you will learn to know God's will for you, which is good and pleasing and perfect." Romans 12:2 (NLT)
"We use God's mighty weapons, not worldly weapons, to knock down the strongholds of human reasoning and to destroy false arguments. We destroy every proud obstacle that keeps people from knowing God. We capture their rebellious thoughts and teach them to obey Christ."  2 Corinthians 10:4-5 (NLT)
But of course I recognize that I cannot master my sin alone.   Just as I need my husband to look for the gecko or escort me downstairs, I need the Holy Spirit to help me.
"And the Holy Spirit helps us in our weakness. For example, we don't know what God wants us to pray for. But the Holy Spirit prays for us with groanings that cannot be expressed in words. And the Father who knows all hearts knows what the Spirit is saying, for the Spirit pleads for us believers in harmony with God's own will."  Romans 8:26-27 (NLT)
"But you are not controlled by your sinful nature. You are controlled by the Spirit if you have the Spirit of God living in you. (And remember that those who do not have the Spirit of Christ living in them do not belong to him at all.) And Christ lives within you, so even though your body will die because of sin, the Spirit gives you life because you have been made right with God."  Romans 8:9-10 (NLT)
Although I do not like the idea of this creature being in my home, I do thank God for giving me a tangible example of a spiritual principle.  And now that I recognize the principle, Lord please remove this creature from my home by any means necessary! Amen!